Weddings in Azerbaijan
Expert Planning Guide

The Land of Fire, as Azerbaijan is known, is a medley of sorts. Soviet buildings, Arabic food and Russian signs - the blend is a very interesting one, just like Indian weddings.

Home to the most ancient petroglyphs ever found, Azerbaijan is an ancient treasure. Triumphant mountains with beautiful scenery guard this beautiful country. Historic towns, semi-arid plains, wildlife, volcanoes, canyons, waterfalls and hundreds of kilometers of coastline is what Azerbaijan is made of.

Say I do as you marvel at the rolling dunes against clear, mesmerizing waters of the Caspian Lake, one of the world's largest. The historical castles of Sheki will take you back an era and your guests will be transported to another time. The 18th century castles, mosques and palaces add to the romantic grandeur of Azerbaijan, a unique place for destination wedding.
GETTING THERE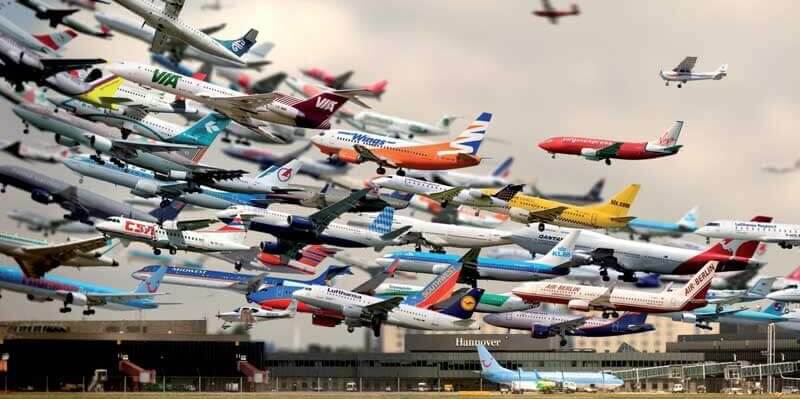 Travelling from India to Azerbaijan is easy and hassle free. There are direct flights from New Delhi 3 times a week.
VISAS FOR INDIANS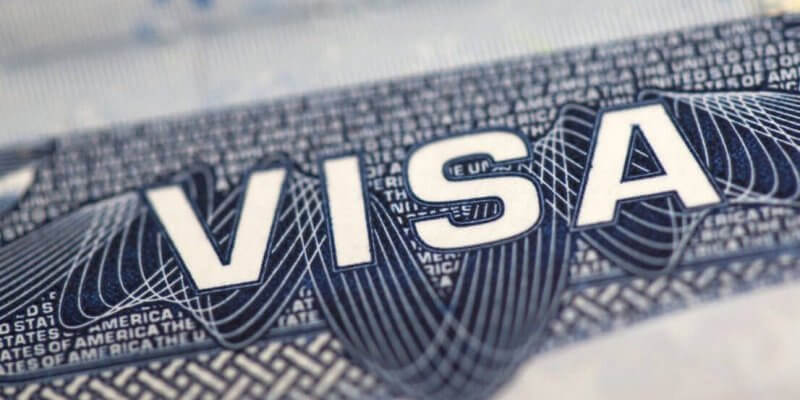 Citizens of India need to have a valid visa to Azerbaijan. Visas are issued within 3 working days.

For more information on application, application fees etc., please visit the Azerbaijan embassy official website.
WEATHER-WISE
July is the hottest month in Baku with an average temperature of 26°C (79°F) and the coldest is February at 4°C (39°F) with the most daily sunshine hours in July.

The wettest month is November with an average of 32 mm of rain. The best month to swim in the sea is in August when the average sea temperature is 26°C (79°F).
Does your 'happily ever after' begin here?
Choosing the right destination is the hardest, but most exciting part. Let us help.

Leave us your contact information and our expert wedding planner will get in touch with you right away.

Getting Married in Azerbaijan
Legal Requirements & Documentation

Legalities for getting married in Azerbaijan are simple. Applications must be submitted to the Main Registry Office (ZAGS) one month prior to the planned marriage registration date. To submit the application both partners need to go the State Registry Office with the following documents:


DOCUMENTS REQUIRED:

1. Valid entrance visa to Azerbaijan (for foreigners),
2. Passport,
3. If divorced, Decree Absolute,
4. If widowed, Death Certificate of previous spouse (and Marriage Certificate),
5. If your name has been changed by Deed Poll, proof is necessary,
6. The relevant fee,
7. Completed application form

All documents must be translated and notarised. It is advisable to contact your wedding planner to find out the exact requirements for specific circumstances

Azerbaijani Weddings
Customs & Traditions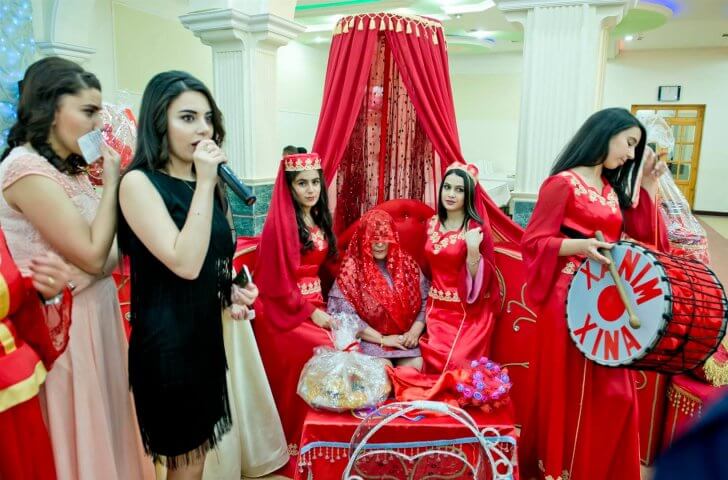 WOOING
Customarily, the first to come to the girl's house are two women - the groom's mother and one of his close relatives. As soon as the women come to an agreement, the head of families of both the bride and groom meet.


ENGAGEMENT
The relatives of the groom come to the girl's house for the engagement ceremony, bringing a ring, a kerchief and sweets. The sister of the groom, his brother, sister-in-law or the father put a ring on the bride's finger and cover her shoulders with the kerchief. Then the feast begins.

As soon as the groom's family has left, it's time for the hen-party. The bride takes turns putting her right hand on the head of each of her unmarried friends, letting them try on her ring. They say that the girl who is the first to try the ring will be the next one to get married.

Wedding Locations in Azerbaijan

WEDDINGS IN BAKU
Baku has spectacular sea views and a skyline to match. The crystal clear waters and the oh so blue sky is breathtaking and refreshing.

Your guests will tap their toes in glee as they see the odd but beautiful blend this city has to offer. The flame towers are spectacular and so are the tastefully done up memorials. Cobblestone streets, narrow winding alleys, boutique houses and tons of cafés and restaurants are what Baku is made of.

The Azeri cuisine is unique and to die for. Your guests will love the Azeri tea that comes with strawberry jam. If you are looking at a destination wedding which is off the beaten track, Baku should be your number one choice.
Selecting the right destination
is just the beginning!
Planning a wedding from afar can be overwhelming & stressful. Fortunately, you're in good company!

We'll be there on your big day to make sure you don't have to worry about a thing! Our job is to look after every detail, so that you can relax and enjoy your wedding day.

Socials, Bachelorette, Bachelor &
Group Activity Ideas in Azerbaijan

BACHELORETTE PARTY IN BAKU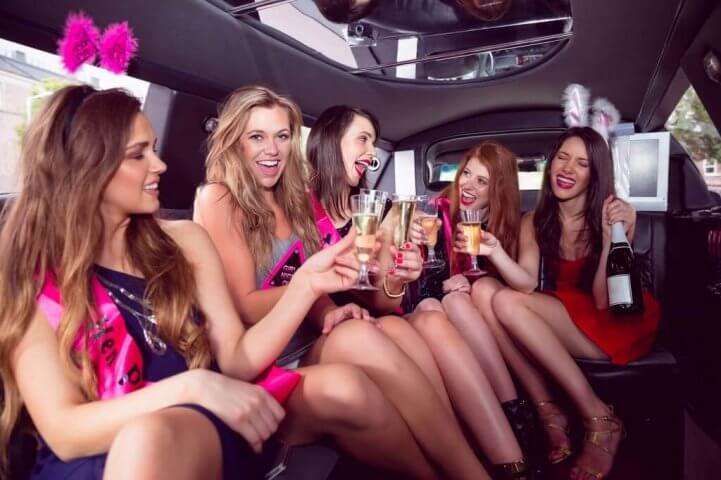 A bachelorette party in Azerbaijan can be a cultural get together or a fun game of Go Karting.

There are many henna parties that are organized locally and one can access some really good Henna artists here.

Take your friends for a shopping spree in Sheki city and later in the evening head to one of the many restaurants for an out of the world food experience.
BACHELOR PARTY IN BAKU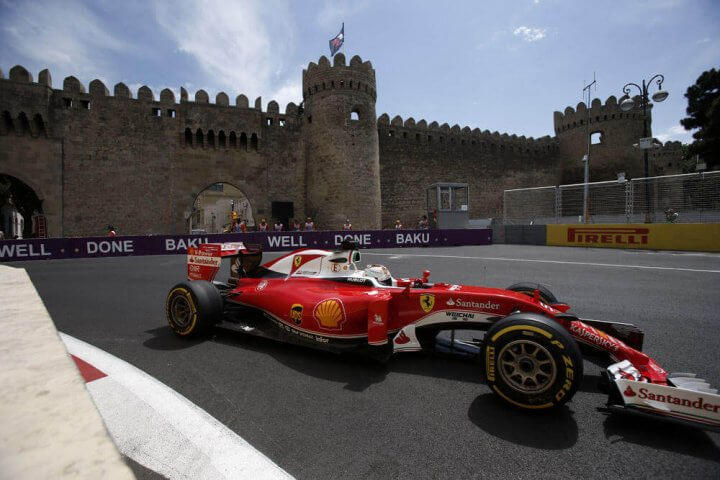 Out of box extreme activities is what one can plan for bachelor parties in Azerbaijan. One can take up skiing with friends in Shahdag.

For a party experience the capital city of Baku has much to offer. Ranked in one of the top 10 party places by Lonely Planet, Baku has a good mix of heady pubs and bars that also serve good food.

Baku also has the Formula 1 racing circuit. Head to one of the practice sessions and experience a thrilling race with your friends.
SOCIALS IN BAKU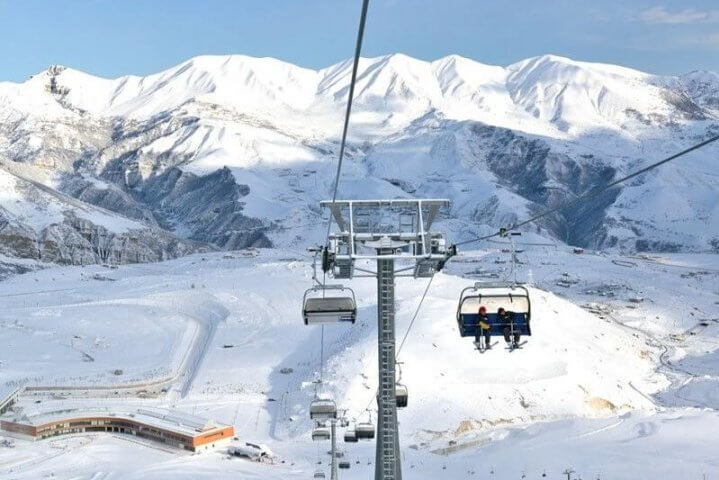 The Azerbaijan food tours are very interesting. Your guests will love to sample the traditional Azeri cuisine and also take some cooking classes.

One can also take up a hiking tour in Shahdag which has some great resorts and one of the pre-wedding functions can be organised there.

Sightseeing in Azerbaijan

ICHERI SHEHER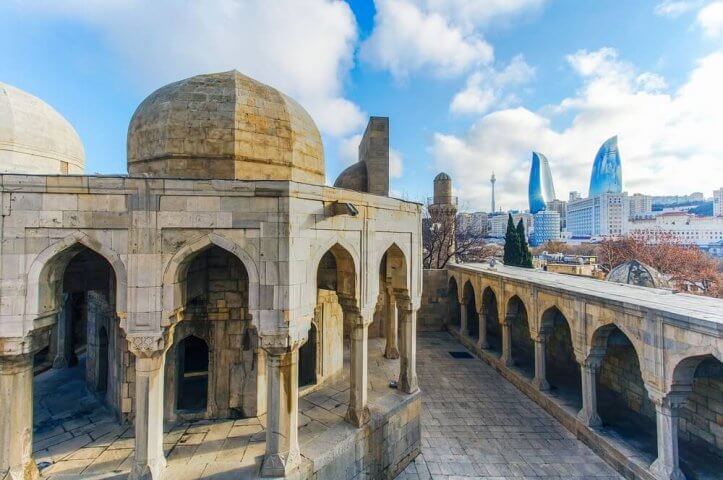 A quaint town with cobblestone streets, Icheri Shahar has some of the most beautiful mosques, magnificent castles and terrace cafes with breathtaking architecture.

Your guests will love the 15th century Shirvan Shahs' palace and the splendid Maiden Tower. The ancient architecture gives Icheri Shahar an old-world charm.

Your guests will love the pace as they gaze at the awesome structures that were built hundreds of years ago.
GOBUSTAN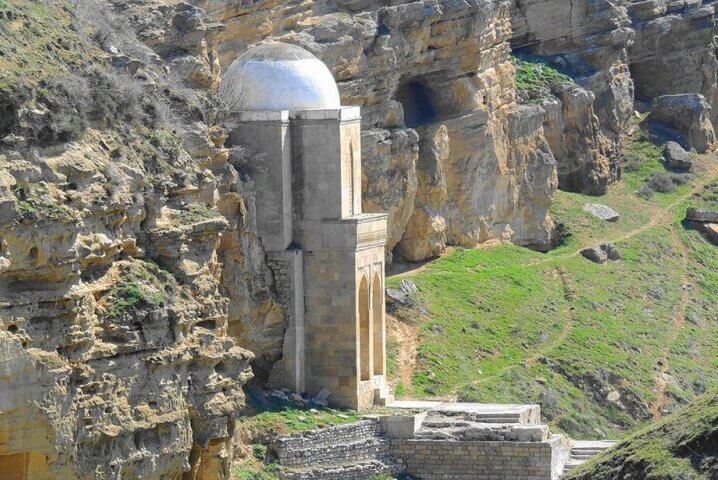 A UNESCO world heritage site, Gobustan has outstanding value for the 600,000 rock art engravings found here. These depict primitive men and their life.

Half of the world's 700 mud volcanoes are located in Azerbaijan around Gobustan National park, along the coast of the Caspian Sea.

The Gaval Dash, a natural musical stone found in Gobustan, is a world wonder and is unique to Azerbaijan.
YANAR DAG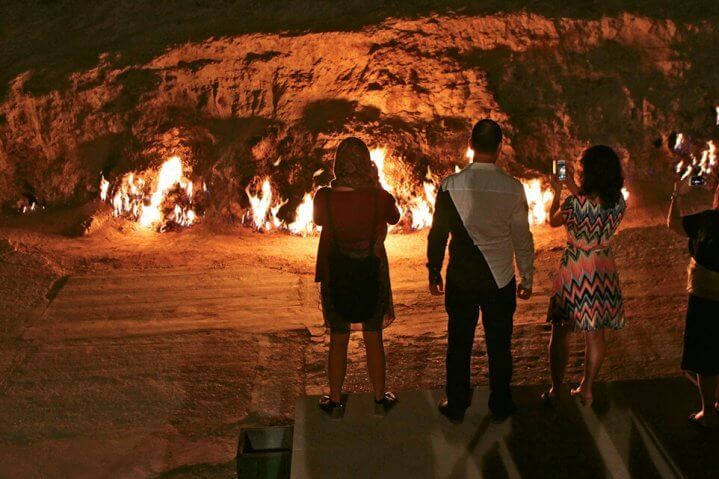 Yanar Dag Mountain in Azerbaijan is known for its eternal flame. Meter long flames of fire have been burning here since ancient times. In the evening, the sight is most effective. Symbolic of never ending love, this eternal fire is a true representation of eternity.
SHEKI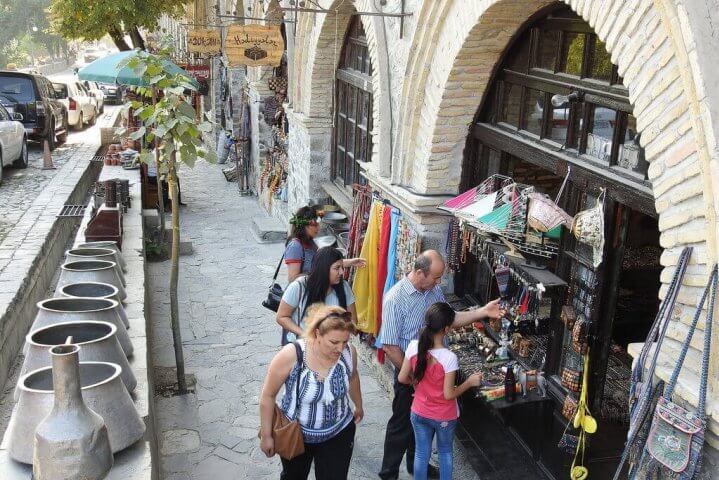 Take your guests to a shopping spree in the beautiful city of Sheki. The incredible soft silks and gorgeous textiles will leave them spoilt for choice.

The magnificent mosques with handsome minarets make a pretty picture. The ancient bathhouses and splendid castles add a wondrous charm to the place.

Roam around the city and shop till you drop. Then head to a kebab corner for some lip-smacking kebabs that will leave you asking for more.
Azerbaijan is a wondrous country to have a destination wedding. If you are looking for a unique destination with never ending wonders to see and experience, this country is your best bet.
Off the beaten track Azerbaijan is full of nice oddities that add to the culture of the place. You sure need a
wedding planner
here to help you get the most of this country.
Enjoy Azerbaijan for a very different and unique experience. The land of fire is sure to ignite flames of undying love in your hearts.
Let's discuss your special day!
We are always looking for new ways to make your destination wedding the best experience of your life. If you have a vision, we have the means to make it happen.
Azerbaijan wedding, Azerbaijan wedding traditions, Azerbaijan wedding, Baku wedding, destination wedding in Azerbaijan, destination wedding in Baku, indian destination wedding in Azerbaijan, indian destination wedding in Baku, indian wedding planner in baku azerbaijan
Whether you envision your ceremony on the powdery white sand beaches of Koh Samui or in a lavish palace in the Swiss Alps or in an oasis in the middle of the Omani desert, destination wedding venues and resorts can fit every budget and taste.
error:
Content protection enabled. Duplicating or copying is strictly prohibited.